Proventil Inhaler: How much does it cost without insurance?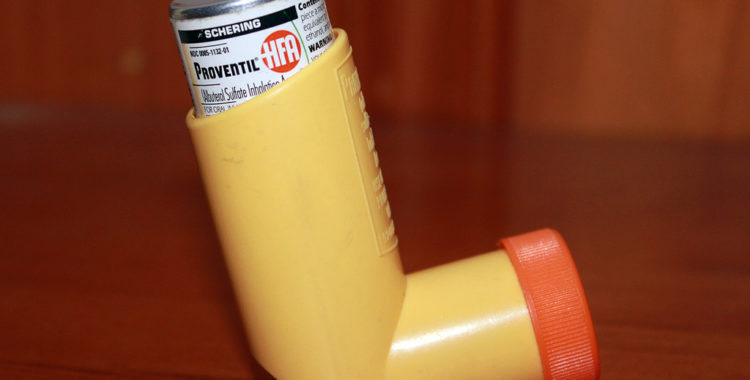 Proventil introduction
Proventil is an inhaler containing Albuterol. It is mainly used to control asthma and symptoms of chronic obstructive pulmonary disease (COPD).
The standard price of Proventil is around $75-$80 for one inhaler. However, there are several forms of Proventil patient assistance available to help reduce the cost. Various online vendors that provide Proventil coupon to get up to 75% off Proventil HFA cost at your pharmacy.
Also, patients can have access to a Proventil manufacturer coupon and can get $15 off the price of their prescription.
Proventil Coupon
A number of pharmaceutical manufacturers make coupons and rebates available to patients who cannot afford their medications. Currently, there is a 2018 Proventil manufacturer coupon available for patients that can save them $15 off the price of this asthma medication.
This manufacturer issues coupons as a Proventil copay card.  This coupon may be redeemed six times when buying the Proventil rescue inhaler,  saving you up to $90 off the cost. It is ideal for patients with no drug coverage, self-employed, or donut hole seniors.
The standard Proventil price at Walmart for 1 HFA inhaler (6.7g) is $99 while the Proventil price at Walgreens is $95. However, with the prescription assistance program—which is acceptable at all the big pharmacy chains (Walgreens, CVS, Rite Aid, Safeway, etc.) and most independent pharmacies—you get suitable discounts that are independent of your insurance.
In addition to the manufacturer savings, some online outlets offer discount coupons.  These Proventil coupons can save you 20-70% off the retail price. These prescription coupons can be redeemed each time you fill your Proventil prescription and accepted at most major US pharmacies.
Uses of Proventil
Proventil is given to patients (who must be four years of age or older) who suffer from asthma, or bronchospasm with reversible obstructive airway disease.  It is also administered for the prevention of exercise-induced bronchospasm.
The active ingredient in Proventil is Albuterol Sulfate, which functions by delivering a medicated spray that relaxes the muscles found in the airways and increasing air flows to the lungs during an asthma attack, helping patients breathe safely after the attack.
Side Effects of Proventil
Some common side effects patients may experience taking Proventil include coughing, headache, muscle pain, insomnia, sore throat,  nausea, diarrhea, vomiting, dry mouth, runny nose, and dizziness.
While they occur in extremely rare cases, it is advisable to seek out immediate medical attention if you experience heart throbbing, heart pounding, rashes, hives, and throat swelling. These conditions might be an indication of a life-threatening response to Proventil. Furthermore, to avoid such adverse reaction only take Proventil as prescribed by your doctor.
Proventil Generics & Similar Drugs
According to the FDA, albuterol sulfate is the generic drug equivalent to Proventil and can be used as a rescue asthma inhaler. There are other similar rescue inhalers that contain same active ingredients such as Vospire ER Ventolin HFA, and ProAir HFA, and can be obtained at the pharmacy using a valid prescription.